THE CAIXABANK
GROUP'S
OPEN INNOVATION
PROGRAMME
We are firmly committed to innovative and forward-looking
projects. Therefore, we have created an open innovation
programme in collaboration with Zone2boost that lets you carry
out a proof of concept or a pilot project to test your solution
in the leading financial group in Spain, grow your business thanks to
our investments in start-ups, and access the financing you need through
DayOne.
Everything you need to boost your start-up because we want
to help you become the next unicorn!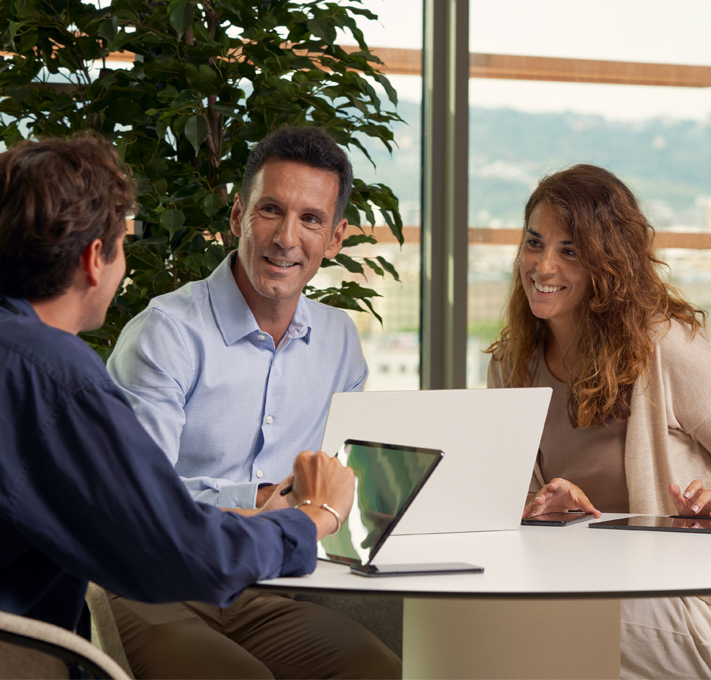 WE ARE
LOOKING FOR
DISRUPTIVE SOLUTIONS
If you think that your start-up could help us
to improve the products and services offered
at the CaixaBank Group, optimise our
processes, save costs or enhance the
experience of our customers, please contact us, and
we will look together for the best way to test it
with one of the group's business areas.
Start-ups in the world of fintech, insurtech, agrotech,
new technologies—whatever your business sector.
If you have a good idea, we will help you test and
develop it and make it grow.
An error occurred while processing the template.
The following has evaluated to null or missing:
==> journalArticleLocalService.fetchJournalArticleByUuidAndGroupId(webContentData.uuid, themeDisplay.getScopeGroupId())  [in template "20155#20195#467516" at line 87, column 47]

----
Tip: If the failing expression is known to legally refer to something that's sometimes null or missing, either specify a default value like myOptionalVar!myDefault, or use <#if myOptionalVar??>when-present<#else>when-missing</#if>. (These only cover the last step of the expression; to cover the whole expression, use parenthesis: (myOptionalVar.foo)!myDefault, (myOptionalVar.foo)??
----

----
FTL stack trace ("~" means nesting-related):
	- Failed at: #assign ja = journalArticleLocalServi...  [in template "20155#20195#467516" at line 87, column 33]
----
1

<#assign journalArticleLocalService = serviceLocator.findService("com.liferay.journal.service.JournalArticleLocalService") /> 
2

 
3

<style> 
4

     
5

    .slider-slide-casos-exito { 
6

        background-color: #F4F4F4; 
7

        margin: 2rem 1rem; 
8

        padding: 1rem; 
9

        width: 460px; 
10

        height: 500px !important;  
11

    } 
12

     
13

 
14

    @media (min-width: 576px) { 
15

    	.slider-slide-casos-exito { 
16

	        margin: 4rem; 
17

	        padding: 2rem; 
18

	    } 
19

    } 
20

             
21

    .image-person{ 
22

        background-color: gray; 
23

        border-radius: 50%; 
24

        width: 50px; 
25

        height: 50px; 
26

        margin-right: 5%; 
27

    } 
28

     
29

    .casos-exito-slider .content-person { 
30

    	display:flex; 
31

    } 
32

     
33

    .info-person { 
34

    	display:flex; 
35

    	flex-direction:column; 
36

    } 
37

 
38

    .casos-exito-slider .content-person p { 
39

    	margin-bottom: 0; 
40

    } 
41

    .casos-exito-slider .slick-center:not(.slick-cloned[data-slick-index="${sepImages.CasoExito.getSiblings()?size +1}"]) , 
42

    .casos-exito-slider  .slick-target  
43

     { 
44

        -moz-transform: scale(1.2) !important; 
45

        -ms-transform: scale(1.2) !important; 
46

        -o-transform: scale(1.2) !important; 
47

        -webkit-transform: scale(1.2) !important; 
48

        transform: scale(1.2) !important; 
49

        transition: transform 1s ease-in-out  !important; 
50

         
51

    } 
52

    .slider-slide-casos-exito , 
53

    .slider-slide-casos-exito.slick-slide[aria-hidden="true"]:not(.slick-cloned) ~ .slick-cloned[aria-hidden="true"]  
54

   { 
55

         transform: scale(1); 
56

        transition: transform 1s ease-in-out ; 
57

    } 
58

    .casos-exito-slider .comillas-azul { 
59

    	width: 53px; 
60

    	height: 44px; 
61

    } 
62

 
63

</style> 
64

 
65

<div class="container"> 
66

    <hr class="separator-module"/> 
67

         
68

    <div class="row"> 
69

        <div class="col-12 col-sm-10"> 
70

            ${htmlTitle.getData()} 
71

        </div> 
72

        <div class="col-12 col-sm-10 h4"> 
73

            ${txtDescription.getData()} 
74

        </div> 
75

    </div> 
76

    <br/> 
77

</div> 
78

<div class="container-fluid"> 
79

 
80

    <div class="slider-container" style="position: relative;"> 
81

        <!--div class="casos-exito-slider"--> 
82

        <div class="casos-exito-slider"> 
83

 
84

           <#list sepImages.CasoExito.getSiblings()> 
85

        		<#items as slide> 
86

        			<#assign webContentData = jsonFactoryUtil.createJSONObject(slide.getData())> 
87

        			<#assign ja = journalArticleLocalService.fetchJournalArticleByUuidAndGroupId(webContentData.uuid, themeDisplay.getScopeGroupId())> 
88

                    <div class="slider-slide-casos-exito"> 
89

        			    ${journalArticleLocalService.getArticleContent(themeDisplay.getScopeGroupId(), ja.getArticleId(), ja.getVersion(), portletProviderAction.VIEW, "", themeDisplay.getLanguageId(), themeDisplay)} 
90

                    </div> 
91

        		</#items> 
92

        	</#list> 
93

        </div> 
94

    </div> 
95

</div> 
96

 
97

     
98

<script type="text/javascript"> 
99

var maxheight = 0; 
100

$(document).ready(function(){ 
101

    let slider = $(".casos-exito-slider").slick({ 
102

        centerMode: true, 
103

        arrows: false, 
104

        dots: false, 
105

        centerPadding: '400px', 
106

        slidesToShow:1, 
107

        responsive: [ 
108

        { 
109

          breakpoint: 768, 
110

          settings: { 
111

            arrows: false, 
112

            centerMode: true, 
113

            centerPadding: '40px', 
114

            slidesToShow: 1 
115

          } 
116

        }, 
117

        { 
118

          breakpoint: 480, 
119

          settings: { 
120

            arrows: false, 
121

            centerMode: true, 
122

            centerPadding: '40px', 
123

            slidesToShow: 1 
124

          } 
125

        } 
126

      ] 
127

    }); 
128

    $('.casos-exito-slider .slick-slide[data-slick-index="${sepImages.CasoExito.getSiblings()?size}"]').addClass("slick-target"); 
129

     
130

    slider.on('beforeChange', function(e, slick, currentSlide, nextSlide) { 
131

         
132

      const slideCount = slick.slideCount - 1; 
133

      const nextSlideIsFirst = currentSlide === slideCount; 
134

      const nextSlideIsLast  = nextSlide === slideCount; 
135

      console.log(slideCount, currentSlide, nextSlide, nextSlideIsFirst, nextSlideIsLast); 
136

      const $activeSlide = $('.casos-exito-slider .slick-slide.slick-active'); 
137

      
138

      if ((nextSlideIsFirst || nextSlide == 0) && !nextSlideIsLast) { 
139

       $('.casos-exito-slider .slick-slide[data-slick-index="'+ slick.slideCount +'"]').addClass('slick-target'); 
140

      } 
141

      if (nextSlideIsLast && !nextSlideIsFirst) { 
142

        $('.casos-exito-slider .slick-slide[data-slick-index="-1"]').addClass('slick-target'); 
143

        $('.casos-exito-slider .slick-slide[data-slick-index="'+ slick.slideCount +'"]').removeClass('slick-target'); 
144

         
145

      } 
146

       
147

    }); 
148

     
149

     
150

    slider.on('afterChange', function(e, slick, currentSlide, nextSlide) { 
151

         
152

        if(currentSlide != 0){ 
153

            $('.slick-target').removeClass('slick-target'); 
154

        } 
155

    }); 
156

     
157

    
158

});      
159

 
160

 
161

</script>